Koya University is pleased to announce that Aro - The Scientific Journal of Koya University has been accepted for indexing in the Emerging Sources Citation Index (ESCI), a new edition of Web of Science™ as of Feb 2016. Content in this index is under consideration by Thomson Reuters to be accepted in the Science Citation Index Expanded™ (SCIE). The quality and depth of content Web of Science offers to researchers, authors, publishers, and institutions sets it apart from other research databases. The inclusion of Aro in the Emerging Sources Citation Index demonstrates our dedication to providing the most relevant and influential Scientific content to our community.
By this, Aro is marked as the first ever Kurdistan/Iraqi scientific journal to be listed by a world leading reference listing. As a young highly ambitious journal, Aro was established in early 2013 to stand for global quality in scientific publication with local and international impacts. The journey to achieve such a remarkable recognition has been tough but the set aims and objectives of the journal were clear and rewarding. Aro is expected to have it's possible full inclusion in the Science Citation Index Expanded™(SCIE) and a calculated Impact Factor by Feb 2018.
On Koya University
On the foothill of the Béjhar mountain lay the green campus of Koya University in the city of Koya, which is 1.0 hr drive to the East of the regional capital Erbil (Arbil, Hewlér) in Kurdistan Region in. Iraq. Its campus has been carefully laid out to embrace the beautiful high mountainous nature.
Koya University was established in 2003 and has developed noticeably since then. In 2010, following introduced reforms in Higher Education Koya University was restructured from colleges to faculty systems to enhance the interactions between similar academic fields. Today the University has 4 faculties -Engineering, Sciences and Health, Humanities and Social Sciences, Education and a School of Medicine which consist of 25 departments in different fields, such as Petroleum Engineering, Geotechnical Engineering, Clinical Psychology, Physics, Kurdish Language and Medical Microbiology as well as Religious and Sport Education.
In early 2012 the new office of Vice President for Scientific affairs introduced a long term strategy for creating an e-Smart all inclusive interactive university with global recognition. The strategy consists of laying the infrastructure for a firm electronic foundation for running Koya University's inclusive communication which is e-enabling all members of its academic community. The created system allowed academic members to experience self-promotion with unique academic values. Koya University have developed and applied what needed for an advanced self-promoting academic portfolio and Continuous Academic Development (CAD) and helped all member to understand and adapt such a strategy. This strategy put students quality and success at the core of all vision, mission and values of the University. This means teachers can use the system as a means to enhance their academic presence or visibility and also to strengthen their academic relations with their students as well as creating academic footprint with academic impact.
Dr. Dilan M. Rostam the Editor-in-Chief of Aro and VP for Scientific Affairs at Koya University (Feb 2012/Feb 2016) also says, "laying the foundation for such a strategy, for which the world leading institutes have worked hard and recorded a global reputation, has educational and teaching implications. Education and quality are two inseparable phenomena and at the present time, the purpose of education and teaching is not teaching students some basic numbers and facts, but to create professionals who are capable of having roles in building their community, as well as having problem solving mind with critical thinking, and at the same time the are able to put their academic and scientific ambitions as a measure for their successful academic impact. Therefore we created Aro to provide a reliable platform for ambitious scientists to publish their valuable scientific works locally in a globally recognised journal. The Aro is a biannual scientific journal published by the Koya University with e-ISSN: 2307-549X, p-ISSN: 2410-9355 and DOI: 10.14500/2307-549X published in English. Aro is a journal of original scientific research, global news, and commentary. The Aro is a peer-reviewed, open access journal that publishes original research articles as well as  review articles in all areas of Science.
Our success is measurable and ranked. What we have achieved in last 4 years is accessible to a global view. Koya University has a global reliable Ranking Web in 2014 for the first time, which put the university at the 4th best university in Kurdistan Region, and now Aro has put a landmark in the history of Kurdistan/Iraq's scientific journal with its successful Thomson Reuters listing in Emerging Sources Citation Index (ESCI) to build up records and find its place in Science Citation Index Expanded™ (SCIE)".
Koya University ranking has been measured in several Webometics Ranking reports and the latest National University Ranking (NUR) which all give us a positive indication of the level of success of the Koya University. When it comes to a viable virtual presence Koya University Ranked as the best University in Iraq globally and that is what the e-Smart strategy stand for. Aro's success as Koya University publication will strongly promote the quality in education and research at the university.
The journey started when the Koya University council in a meeting in early Dec 2012 unanimously appointed Dr Dilan M Rostam -then VP for Scientific Affairs of Koya University- to create a solely scientific journal for Koya University. Dr Rostam carefully picked an Executive Editorial Board amongst Koya University scientist based on their scientific merits, build up a roadmap and aimed on internationally recognised quality scientific publication without compromise. He has been leading the process with a dedicated team that proudly can stand by one of the most reputable Scientific Journal in Kurdistan/Iraq.
Executive Editorial Board members Shwan K. Rachid, Salah I. Yahya, Sarkawt S. Abdulrahman and the secretary of the journal Jwan T. Rawuf have been working spirited since the birth of Aro and promoted to the success of the journal with their great sense of collaboration and professionalism. The board has enjoyed full support from its Executive Publishers Prof Khidir Hawrami (Feb 2013/Sep 2014) and Dr Wali M. Hamad in implement its aim and objectives. Their role has been immensely important to recorded success of today.  As Aro was spreading its roots in the past couple years, an Associate Editorial Board were gradually established which today provide a very import role in ensuring the originality and quality of the publications.
Dr Rostam also mentions that leading this journey as Editor-in-Chief has been tough but when you read about the listing of Aro by Thomson Reuters as the only Kurdistan/Iraq scientific Journal you feel that all the hardship has been paid off. He calls all prominent scientist in the region and internationally to join them in pushing the frontiers for better quality in regional research with us. Please visit our website and become a Peer-Reviewer today.
Importance of Scientific Research
It is very important to realise the importance of quality scientific research in driving the whole academic community toward a responsible education with brighter future. Scientific research is the systematic investigation of scientific theories and hypotheses. A hypothesis is a single assertion, a proposed explanation of something based on available knowledge, for something yet to be explained. One that is subject to further experimentation and studies. The results of research is published in a scientific journal. Journal articles neaten up the messy process of science, presenting ideas, evidence, and reasoning in a way that's easy to understand — in contrast to the often circuitous process of science. In today's academic world this process is the real measure of academic professional competence and the way of understanding science and how science really works. Among academics, the maxim "publish or perish" (i.e., publish your research or risk losing your job) is a threatening reminder of the importance of publication. Despite its cynicism, the phrase makes an important point: publishing findings, hypotheses, theories, and the lines of reasoning and evidence relevant to them is critical to the progress of science.
Therefor, Koya University has constantly encouraged its academic members to engage in research and scientific publishing that work on current solution of our time that has direct impact in people's life and well as introducing real measure of academic and competence. In particular researchers that bridges our dynamic young market in the region with higher education in a productive and fruitful connections. This is the leading measure of university's role in representing quality of market and life in the region. It is evident that Aro needs to focus on publication of scholarly works that have great local values with International impact, such natural resources, geology, seismic, building standard, sustainable development's, climate issues, reforestations, product standardisations, chemical studies and etc.
Thomson Reuters Web of Science
Thomson Reuters World of Science (TRWS) service is the world's largest citation index. TRWS explore research and ideas from different disciplines around the world by leaping through more than 1 billion indexed citations. It connects to 100+ years of research through our proprietary citation indexing system. The service drills down into more than 3,100 Open Access journals, representing all major regions and span the life sciences, health sciences, social sciences as well as emerging scientific areas.
The service by TRWS provides intelligent results and brilliant connections by searching and discovering the world's most impactful scholarly journals and scientific research. In Thomson Reuters Web of Science™, you'll find cover-to-cover indexing of the world's most important scientific research, including scholarly journals, books, proceedings, published data sets, and patents. This content is truly multidisciplinary and global, originating from 80 different countries and in 32 languages with over 100 years of backfiles.
Global citation analysis delivers the most relevant and complete search results. Embedded analysis tools help you further refine your results, make new discoveries and connections across disciplines and regions, and understand the worldwide impact of the sources and authors you uncover. The services provided by TRWS can easily reveal critical patterns and trends in the research with powerful search and analysis tools. This can reveal and examine the ongoing evolution of your research area, identify top authors, institutions, and publishers in a given field, discover related articles quickly and trace citations to identify prior influences and examine emerging trends. It will gives clear, impartial insight with 100% unbiased results. TRWS is not a publisher. They apply their standard, consistent evaluation and selection process to all indexed content. No strings, no agenda: just the facts.
Emerging Sources Citation Index is a new edition in Web of Science Core Collection. ESCI is a multidisciplinary Citation Index covering all areas of the scholarly literature of the sciences, social sciences, and arts and humanities. The Core Collection Journal Selection Process now includes a set of fundamental criteria that govern the selection of Journals for ESCI. The selection process for ESCI is related to the process applied to SCIE, SSCI and AHCI.
Source: Web of Science (http://ipscience.thomsonreuters.com/product/web-of-science/)
Why this is Important?
Aro, The Scientific Journal of Koya University is now evaluated and listed for ESCI category. Journals indexed in ESCI have been evaluated by the Thomson Reuters editorial staff and have met the initial requirements for coverage. Factors considered during the selection process include the journal's publishing standards, its editorial content, and citation data from Web of Science.
Journals accepted for coverage in ESCI must be peer reviewed, follow ethical publishing practices, meet the our technical requirements, have English language bibliographic information, and be recommended or requested by a scholarly audience of Web of Science users.
Because ESCI is a true Citation Index it is possible for users to track citation activity at the article and publication levels. Moreover, the citation activity for journals covered in ESCI will be used in the Journal Selection Process for SCIE, SSCI and AHCI and will enhance the transparency of that aspect of the Process. TRWS will not, however, publish an official Impact Factor for publications whilst covered in ESCI. Impact Factors are published annually in the Journal Citation Reports for SCIE and SSCI journals exclusively.
Acknowledgement
Aro Executive Editorial team would like to thank all the Associate Editorial members, Peer-Reviewers and authors for their dedication professional supports.This achievements would be not possible without their impacts. Also special thanks to Aro's designer team who has been promoting the journal with their artistic works.
Image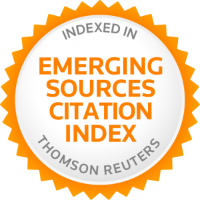 Subtitle
Web of Science indexing
Description / Summary
Aro - The Scientific Journal of Koya University has been accepted for indexing in the Emerging Sources Citation Index (ESCI)