Koya University is inviting all academics, researchers, professionals and who may concern to attend  and participate the international symposium that will be held in collaboration with different national and international bodies. The international symposium will be held at Koya University on 5th December 2021. The symposium is about the "Combating Desertification and Drought in Iraq via Promoting Sustainable Industrial Startups" and will be participated by famous national and international companies and brands.
Participants
The Iraqi Ministry of Industry and Minerals
The Iraqi Ministry of Planning
The Iraqi Ministry of Water Resources
Local and International Companies: Kar Group, Ster Group, Trade Bank of Iraq, GE-Iraq, Siemens-Iraq, PetroChina, Rosneft, AsiaCell, Qaiwan Group, and Toyota-Iraq).
Objective of the Symposium
Beyond wars and geopolitical complexity, the Middle East region which is already facing serious concerns about drought, water scarcity or population displacement risks seeing its problems worsen further in the decades to come, to the point of to make it difficult to inhabit. A new study by NASA, published in the Journal of Geophysical Research-Atmospheres of the American Geophysical Union about the climate history of the Mediterranean basin and the variability of its drought shows that the drought that have affected the Middle East between 1998 and 2012 was the worst since the XII-the century. For the researchers, global warming has probably accentuated it, as the models predict. The study shows that the one suffered by the "Levant" - a region including Cyprus, Iraq, Jordan, Lebanon, Palestine, Syria and Turkey, also known as the Near East and the Middle East - between 1998 and 2012 was 50% drier than the driest period of the past 500 years and 10-20% more terrible than the worst drought since 1100! Scientists have also found that when the eastern Mediterranean basin is hit by a drought, it often happens that this also happens on the other side, to the west. In recent years, it is not uncommon to hear in the media, various actors or political and scientific experts explain that the drought that hit Syria from 2007 to 2010 and devastated the peasant earning sources would be one of the triggering factors of the revolt. This has agitated the country since 2011, a revolt which unfortunately became a particularly bloody conflict, pushing tens of thousands of families to immigrate to the neighboring and European countries. Hence, to prevent similar scenario in Iraq, the need for a sustainable solution is extremely high to tackle the problem meanwhile addressing or even promoting the social and environmental concerns. One of this solutions comes from entrepreneurship. Entrepreneurs in particular are actively helping to shape the world of tomorrow. With innovations, new business models and products, they create solutions for the great challenges of the future. That is why entrepreneurship could be the flywheel for simultaneous social and environmental change. This is where the concept of sustainable entrepreneurship comes in. It reflects the most market-based form of integrating ecological, social and economic goals through the establishment, development or substantial change of a company or business unit. It includes not only the optimization of production processes and products, but also social design as a core activity. Sustainable development often requires very substantial change. In the sense of "creative destruction" (Schumpeter), a process of sustainable entrepreneurship is expected to abandon unsustainable business models, products and production processes and to create new ones that re-place the previous offerings and make them unattractive or even irrelevant. Start-up or internal substitution becomes the driving force for the external transformation effect. 2 In a broader sense, sustainable entrepreneurship can be described as an innovative, marketoriented, and personality-driven way to create economic and social value through revolutionary, environmentally or socially beneficial market or institutional innovations. Sustainable entrepreneurs demonstrate personal mastery and view their professional lives as creative acts. Differences between personal goals and perceived reality are seen as a challenge rather than a problem. In addition, sustainable entrepreneurs strongly influence the company with their personal goals and preferences, so these are reflected in the company's goals. This happens more often and more strongly in start-ups and small companies than in large companies. Recognizing the relationship between entrepreneurship and sustainability following the worldwide reference of the 2030 Sustainable Development Goals (SDGs) framework set by the United Nations, these SDGs are the inspiration for many types of entrepreneurship that combine value creation with conservation and social protection, more specifically the sustainable entrepreneurship. The major forms of sustainable entrepreneurship that very well correlated with SDG goals are: 1. Circular Entrepreneurship, identifying organic (on health and well-being), green (action for cli-mate and ecosystems) and blue (clean water and underwater life); 2. Inclusive Entrepreneurship, creating opportunities through improving the communities where they operate. Their founders fight poverty, hunger, gender, sex, and race inequality creating businesses that develop social and economic value. The motivation of these entrepreneurs is to provide equal opportunities for those suffering disability, being in a minority, or any other form of exclusion through employment; 3. Female Entrepreneurship: female entrepreneurs represent the fastest growing category of entrepreneurship worldwide and have received, especially in recent years, the attention of many academics. According to the emerging literature, women can make a significant contribution to entrepreneurial activity and economic development in terms of creating new jobs and increasing the gross domestic product (GDP), with positive impacts on reducing poverty and social exclusion; and 4. Smart Entrepreneurship 4.0, nowadays, urban life represents more than half of the population and in 2050 this will be two-thirds of all humanity. In this sense, smart cities discover new technological opportunities for improving the community's way of life and focusing on new entrepreneurial opportunities. The smart city represents different perspectives: smart people, smart governance and smart economy, smart mobility, smart environment, and smart living. This approach is a concept of smart sustainability which is being developed by inclusive entrepreneurs aiming to promote social and economic benefits for their communities. Different perspectives on development economics, ecological, societal & sustainability have shed light on the effects of drought and society's response to it so far. However, the entrepreneurship perspective has largely been overlooked. It is in this context that Koya University in coordination with the Ministry of Planning and Ministry of Industry and MineralsIraq is intending to conduct a symposium on "Combating Desertification and Drought in Iraq via Promoting Sustainable Industrial Startups" on 05th December 2021. The main goals of the event can be summarized as follow:
Brainstorming the sustainable startup ideas to solve drought and desertification problem in Iraq; 3
Establishing a network for sharing the participants' strategies, their tools, and their experiences to help move sustainable entrepreneurship forward;
Offering inspiration, resources, and guidance towards unlocking the power of ecopreneurship and agripreneurship practices;
Bringing together Iraqi officials and people from fund providing agencies to explore the possibilities of funding the startup ideas;
Promoting the concept of women empowerment in the broader context of fighting desertification via special focus on their roles in sustainable industrial entrepreneurship; and
Investigating the onset of new platform that targets ecological challenges in Iraq via sustainable industrial entrepreneurship. For more information, the programme of the event is attached.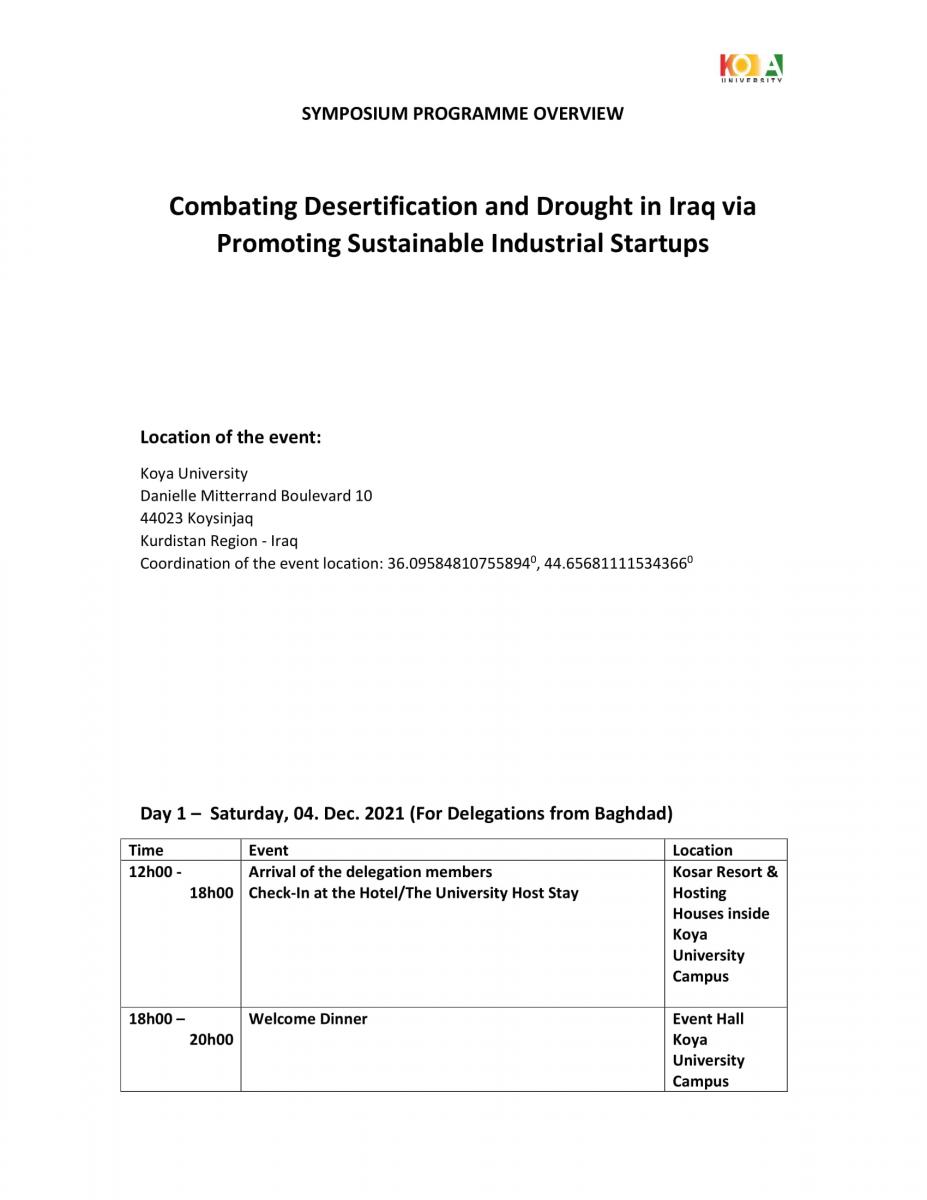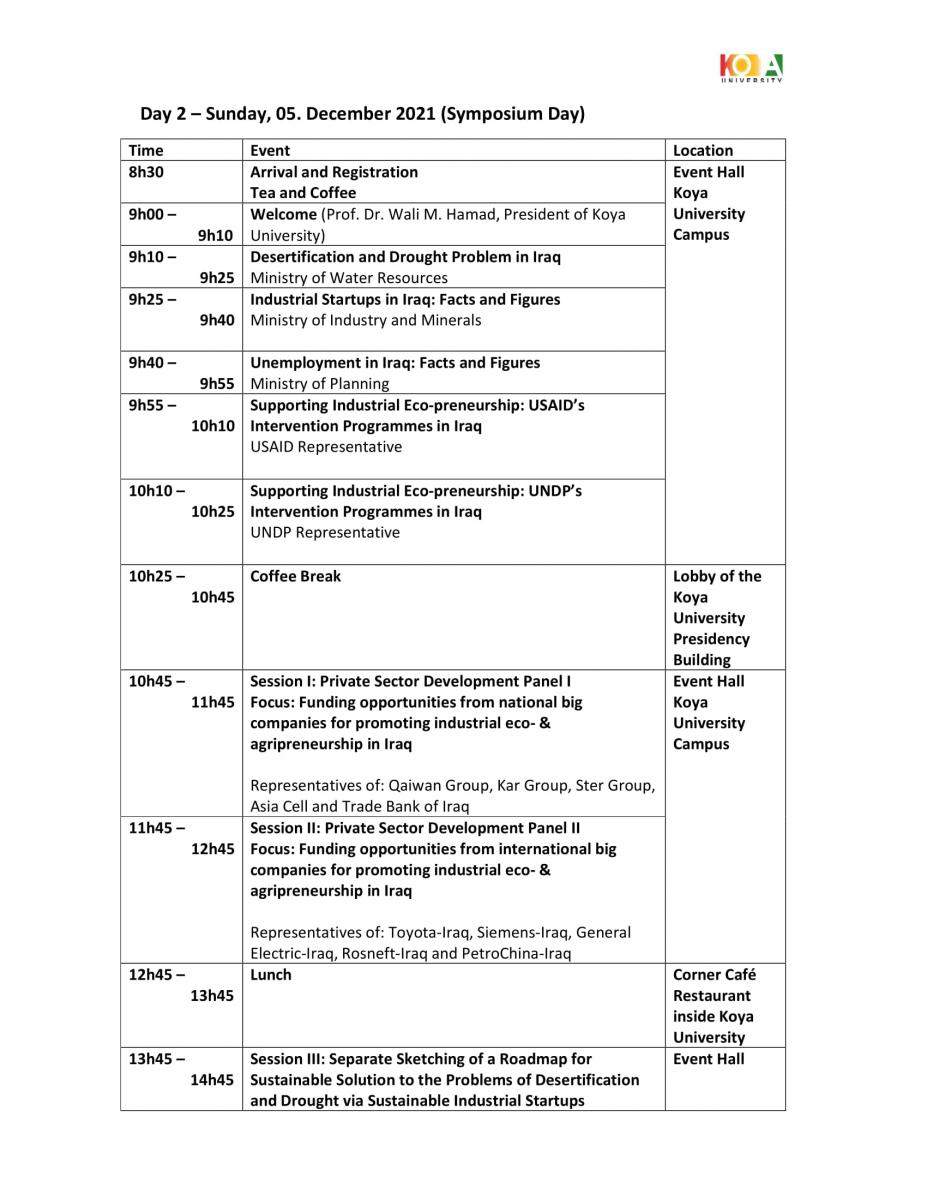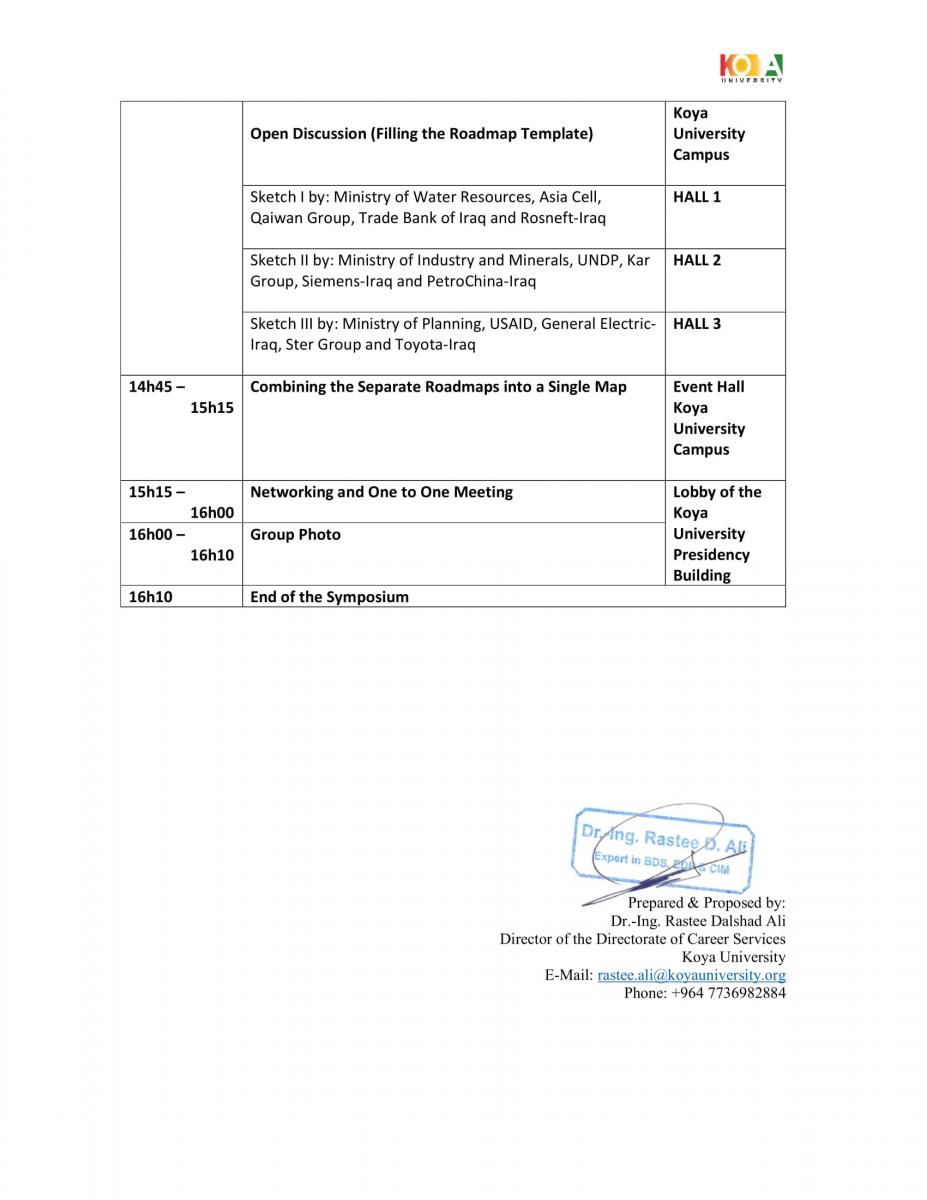 ----------
Koya University (KOU) is located in the city of Koya (Koy Sanjaq) which is 1.0 hr drive to the East of the Kurdistan Region capital Erbil (Arbil, Hewlér) in Kurdistan Region of F.R. Iraq. It is on the foothills of beautiful high mountain. Its campus has been carefully laid out to embrace the beautiful mountainous nature. . There are 4 Faculties and 2 Schools in KOU; Faculty of Engineering (FENG), Faculty of Science and Health (FSCH), Faculty of Education (FEDU), Faculty of Humanities and Social Silences (FHSS), Shcool of Physical Education (SPHE) and School of Medicine (SMED). Also, there are two research centers; Genome Center and Malai Gawra Center. Moreover, at KOU there is an English Language Center (BELC) at KOU has been opened with the sponsorship of IREX and American embassy in Baghdad as well as with the support of Spring International Language Center of The University of Arkansas. KOU has two Scientific Journals; ARO-The Scientific Journal of Koya University, which is indexed by Clarivate Analytics (ESCI), and Koya University Journal of Humanities and Social Sciences (KUJHSS). KOU is a proactive member of Erasmus/ Marhaba Project and Erasmus+. KOU signed many Memorandum of Understandings (MoU) with many International Universities, e.g., The University of Arkansas (June 2015). The Lulea University in Sweden (April 2014), The University of Nottingham in the UK, The University of Buckingham in the UK (Oct 2008), Belkin University in Turkey (Sep 2009) and The University of Greenwich in the UK.
Image